Our Philosophy
The fundamental premises of teaching history at the college level is to enable students to understand some portion of past human experience, to connect that experience to their lives, and to equip students with the tools to assess historical evidence throughout their lives. Changes in the nature, focus, and preparation of college students, educational technology, pedagogical approaches, and college curricular requirements mean that existing formats, course structures, and specific historical materials need to be re-examined and adapted into this new environment.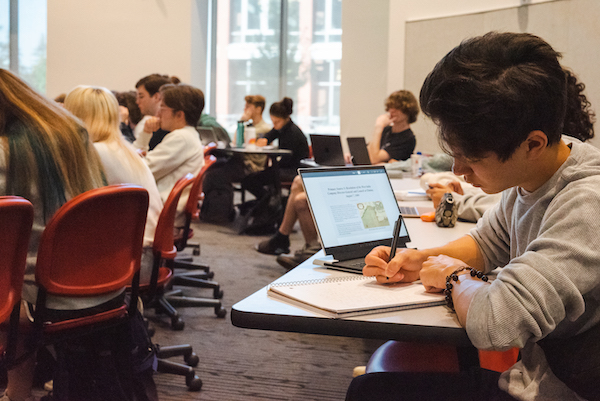 Our History
History for the 21st Century was co-founded by Trevor Getz and Steve Harris in 2019, with financial support from the Agentives Fund, a private foundation committed to bold changes in education. We kicked-off our work with a conference in San Francisco, which 20+ leaders in college history teaching and world history got together to see if there were some better ways to help instructors help students understand and use history.
In 2021, Jesse Spohnholz became the project's Director, and led a redesign of existing instructional materials and commissioned new ones. In 2022, Brenna Miller also joined the team as Assistant Director, working to design, test, and publish new teaching modules.
Over the long-term, we look forward to becoming a core resource for college history instructors in both world and US history!
Our Partners
Since December 2021, the History for the 21st Century project has also moved its institutional home to the World History Association, whose members share its commitment to supporting quality history education to all faculty and students.
We also draw ideas from, and share ideas with other organizations who share our mission as well, including the American Historical Association and the AHA's Teaching Division and History Gateways Project.
Additional partners include the Global Architectural History Teaching Collaborative, the Open Educational Resources (OER) World History Project, Reacting to the Past, and the World History Commons.
Our Team
Director: Jesse Spohnholz, Washington State University
Jesse Spohnholz is Professor of History at Washington State University, where he been recognized with multiple awards for his teaching. For nine years, he was also Director of the Roots of Contemporary Issues program at Washington State, a General Education program that introduces first-year students to historical thinking to offer them tools to respond to come of the most controversial and pressing issues facing the world today. He the author of many publications, including two award-winning books on the history of refugees in early modern European history, as well as a textbook, Ruptured Lives: Refugee Crises in Historical Perspective (Oxford University Press in 2021).
Assistant Director: Brenna Miller, Washington State University
Brenna Miller is a Teaching Assistant Professor in the Roots of Contemporary Issues program at Washington State University. She received her PhD from Ohio State University in 2018 with a focus on Eastern European History, and has taught introductory, upper-division, and honors university courses in Modern European, Eastern European, Middle Eastern, and World Histories. She is particularly interested in history teaching and pedagogy, as well as in structures of support for students and instructors.
Executive Committee
Shane Carter, ORIAS, at University of California, Berkeley
Shane Carter is the Program Coordinator for ORIAS (the Office of Resources for International and Area Studies) at the University of California, Berkeley. ORIAS offers educator resources and workshops focused on World History and other international topics. Shane is a former high school history-social studies teacher.
Trevor Getz, San Francisco State University (founding co-director)
Trevor R. Getz is a Professor of African and World History at San Francisco State University. His work focuses on history education – especially in the field of world history – as well comics in history, public history, and histories of nineteenth century West Africa. He is the recipient of the American Historical Association's 2020 Eugene Asher Distinguished Teaching Award, and a co-founder of History for the 21st century.
Steve Harris, San Francisco State University (founding co-director)
Steve Harris, a lawyer-turned-historian, teaches the history of modern Europe, democracy, and historiography at San Francisco State University. Along with Professor Getz, he has co-lead the History of the 21st Century project to re-conceive introductory college history courses.
Molly Warsh, University of Pittsburgh
Molly A. Warsh is Associate Professor of History at the University of Pittsburgh, where she teaches a variety of classes including world history, global piracy, empires and the environment, and the global Caribbean. She is the Editor of the Journal of Early Modern History (Brill) and directs the Alliance for Learning in World History, a collaboration of educators and history scholars organized to advance the teaching and learning of world history in classrooms in the U.S. and globally. She is the author of American Baroque: Pearls and the Nature of Empire 1492-1700 (Omohundro Institute with the University of North Carolina Press, 2018.)
Urmi Engineer Willoughby, Pitzer College
Urmi Engineer Willoughby is an Associate Professor of North American and US Environmental History at Pitzer College. Her research focuses on disease and ecology in the eighteenth and nineteenth centuries, with a focus on the Mississippi Valley, Gulf South, and Caribbean region. She is the author of Yellow Fever, Race, and Ecology in Nineteenth-Century New Orleans (LSU Press, 2017).